TALES at the Overlook: "One of the coolest events that the fest has to offer"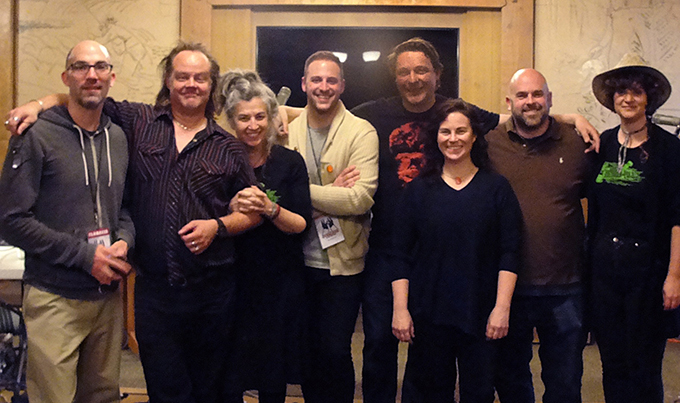 Tales at the Overlook Film Festival, 29 April 2017:
Clay McLeod Chapman, Larry Fessenden, Beck Underwood, Sam Zimmerman,
Glenn McQuaid, Janet Scanlon, Lee Nussbaum, Devin Febbroriello
After the movie had ended I ran over to the Barlow room, where I got to see one of the coolest events that the fest has to offer – Tales From Beyond the Pale. Like an old H.G. Wells show, four actors, including Larry Fessenden and Sam Zimmerman, voiced two live readings of creepy Twilight Zone-esque stories that left me feeling like I was in the 1950s huddled up next to family members and a roaring fireplace as we listened to our favorite radio program. I mean, there were even two ladies on the side of the stage putting their hands in shoes and making them walk on a piece of wood to create the illusion that someone was stomping through a house. When a character in a story experienced turbulence on an airplane, they clinked together drinking glasses to make it seem like the actors were really on a plane. "Phonecalls" were voiced through a megaphone to make it sound authentic, and an old wooden chair was swiveled back and forth under a microphone to mimic the creaks of an aging house moaning in the wind. It was truly fascinating to see these stories leap off the page and become alive right before me.
The second story titled "In the Wind" took place in a snowy mountain town, where two sweet little police officers named Frannie and Carl followed up a call about some missing truckers who had left their cars and been found hundreds of feet away without an explanation. Before long, gargoyle-like winged creatures appear and ravage the officers, stealing from them their lives and their sanity. I enjoyed both stories immensely, but the first one was especially cool. In it, a self-absorbed man named Tom hangs up the phone with his wife who pleads with him yet again not to move their family away to Ireland, but to no avail. Just as he ends the call, a knock appears at the door, and it's a strange gentleman who offers to buy the house they're trying to sell on the spot, without haggling, above the asking price. Tom jumps at the chance but begins to grow suspicious of this odd character after he begins asking for other things, too, such as Tom's dog, and then his wife, and his two children. At first, Tom grows angry, but as the soothing spirit coaxes him with his Irish tongue and twisted logic, Tom finds himself adhering to this strange and unusual deal, he comes to see it as a bargain and gladly trades in his old life for a new one. He'll soon live to regret it.
I simply cannot praise Larry Fessenden enough. From his writing to his acting, and even just his voice all carry a unique sense of the old world. When he shows up for a job, you can just tell that he's there and doing it because he loves to perform. He loves his job. It's not about the money, it's about the craft, and every project he's a part of becomes that much more special just because of his commanding presence. It was a real joy to witness him live and in person.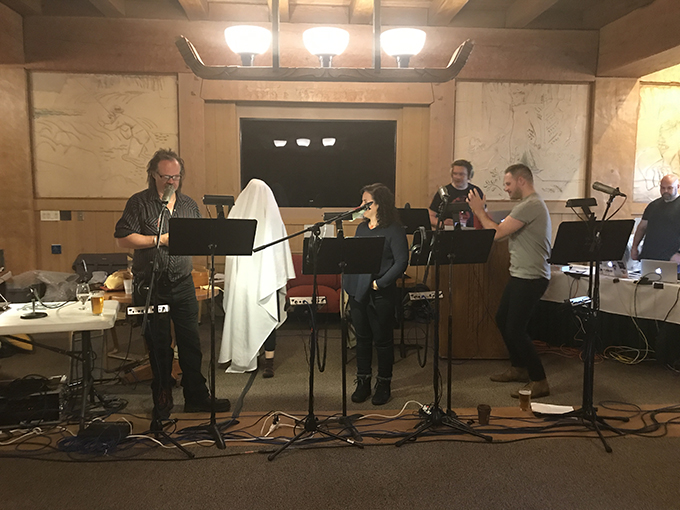 rehearsal gets ghostly