BIRTH. MOVIES. DEATH. The Overlook Film Festival: TALES FROM BEYOND THE PALE
The spooky radio drama got a live read at Timberline Lodge.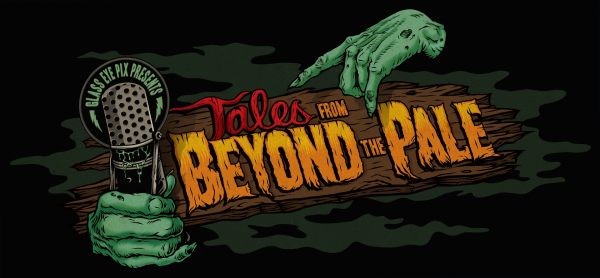 If you're not familiar with Larry Fessenden and Glenn McQuaid's radio drama Tales From Beyond the Pale, it's a terrific and haunting storytelling device. I've been lucky enough to see two live reads of the show – once at The Stanley Film Festival, and this week at The Overlook Film Festival.
The performers stand at mics with headphones and scripts on podiums, while McQuaid sits in the background at a soundboard, producing the show and playing his original score. Two sound effects artists work at a table to the side, using sound props like a small door in a frame, shoes in a box of gravel, jars full of liquid, a tube they shake to create, as my colleague Katie Rife phrased it, "ambient spookiness." As riveting as the stories are, and as great as the performances, it's tempting to just watch the sound artists at work, the little magic they create with bags of sand and aluminum ducts.
Fessenden, in his marvelous voice, opens the show with a Crypt Keeper-type monologue, assuring us that today's stories are intended to distract us from the "hundred-day horror show" that has been this nation. He also performs a role in each story, along with Shudder's Sam Zimmerman, The Pumpkin Pie Show's Clay McLeod Chapman and actress Janet Scanlon.
The first story is titled "Re-Appraisal," in which a man (Chapman) is trying to sell his house so he can escape the modern insanity of the United States and move back to his homeland of Ireland. A potential buyer (Fessenden) arrives with a very compelling offer, but the seeming bargain comes at a terrible price. "Re-Appraisal," written by McQuaid, trades on our new, unfortunate revival of nuclear panic, and tells a lesson about the selfishness of our own anxiety.
The second story, written by Fessenden, is called "In the Wind," and it's a Fargo meets The Mist-type tale in which Scanlon plays Frannie, a small town police chief in a snowy mountain resort, with Zimmerman playing her sweet-tempered second-in-command. While investigating a homicide, Frannie and her team soon realize that what they're dealing with is something much worse, a supernatural foe that threatens to overtake the entire town.
Both stories were perfectly creepy and beautifully performed, generating real suspense in that small, warm room. Tales From Beyond the Pale was once more a highlight of this horror festival, a refreshing change from slasher flicks and the like. There's a quaintness to the delivery of these scary stories that makes their unnerving content stand out in stark contrast. If you ever get a chance to see Tales From Beyond the Pale performed live, you should take it, and in the meantime, check out more tales here.