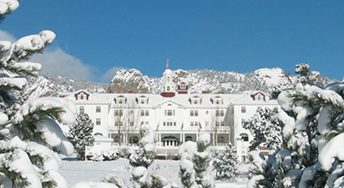 FOR IMMEDIATE RELEASE

STANLEY FILM FESTIVAL ANNOUNCES JOE DANTE TO RECEIVE "MASTER OF HORROR" AWARD PRESENTED BY MICK GARRIS, FULL CAST FOR TALES FROM BEYOND THE PALE: THE STANLEY EDITION, PANELS, AND ADDED SCREENINGS

April 14, 2014 (Denver, CO) – The Stanley Film Festival (SFF), presented by Chiller and produced by the Denver Film Society, announced their full lineup of panels, added screenings, Dean's Cup short films, and the full cast of TALES FROM BEYOND THE PALE: The Stanley Edition (presented by Glass Eye Pix). Celebrating the best in independent horror cinema, SFF will showcase a full slate of features, shorts, panels and fully immersive experiences – set at the Stanley Hotel. The haunted landmark opened in 1909 and was the inspiration for Stephen King's Overlook Hotel in The Shining.
…
Adding to the 4-day celebration of horror, TALES FROM BEYOND THE PALE: The Stanley Edition has been created specifically for SFF 2014. TALES FROM BEYOND THE PALE is an ongoing series of audio dramas penned by luminaries from the world of contemporary horror. The Stanley Edition will proudly feature SFF attendees Martin Starr (Dead Snow: Red vs. Dead), Jocelyn DeBoer (Dead Snow: Red vs. Dead), AJ Bowen (The Sacrament), Ana Asensio and noted director and writer Larry Fessenden and additional special guests. The performance will be held at the Historic Park Theatre in downtown Estes Park on Saturday, April 26 at 4:45pm.
…
Rounding out the weekend is a series of panels. SpectreVision cofounders Elijah Wood, Daniel Noah and Josh Waller will present a panel about their film production and music management company and their future plans. Additional panels include Who Watches This Stuff?: Buying, Selling, Distributing and Exhibiting Horror Films Today as well as a panel focusing on the New Wave of horror featuring Ti West, Travis Stevens, Glenn McQuaid and Larry Fessenden.
Check out the full press release here.