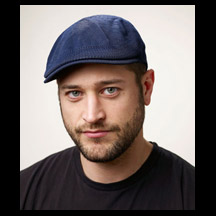 "THE CONFORMATION began its life as a feature pitch, but I ended up too busy to go out with it. When Glenn and Larry asked if I was interested in doing a Beyond The Pale episode, I loved the idea of doing radio and dug them so much that I just said Hell Yes, and figured I'd do something new. A couple days later, it occurred to me that this would be the perfect chance to give the world a little taste of THE CONFORMATION.
I listened to old radio plays for the next few weeks walking my dog — the only time off I get when I'm writing — and was so impressed with how whip-smart and fast these things played. No pandering, no spoon-feeding. Just pure story and rhythm. I decided I to do it just like the old days, from the formatting to the sound effects. To pull that off, the very first thing I did was bring on magicians, Editor, Jake Hamilton, and composer, Austin Wintory, two of my most treasured collaborators.
I sought out an original radio play format and set to work adapting the illustrated treatment I had intended to use as a pitch. I'm a big screenplay geek; I find them fascinating, right down to the nuances of formatting choices and the differences between various mediums of delivery, so, the opportunity to delve into a new sub-genre of the form was really exciting to me.
For cast, I rounded up a posse of folks from Judith Weston's Two Lights Studio out here in LA, where I have gone to workshop and study a lot over the last year or so, along with an old friend, Dinora Walcott, one of the most talented actors I know. For the role of Michelle, I had a particular actress from Two Lights in mind, but when I looked her up, I discovered she had returned to Munich. Luckily, Glenn and Larry were game to bring her over for the show, and within a few weeks, we were gathered in Highland Park for a marathon record.
In post production, Jake ran with the purist approach, recording custom sounds, rather than relying on the libraries. He spent the next two weeks flinging himself into bathtubs full of ice, cutting up pumpkins with scalpels, and dropping rotting melons from his rooftop. Austin, never a man to make things easy on himself if the score can thrive through his suffering (we recorded the GRACE score at Capital Records remote from Abbey Road, so he could assemble the largest collection of contrabass clarinets in the history of the studio, on a budget more suited to a shared meal at Fat Burger), composed a masterful series of cues, bringing in the lovely Tina Guo to record some of the most haunting cello I have ever heard.
Throughout the project, I fell deeper and deeper in love with the mad man's creative journey that is Beyond The Pale. This has been pure joy. Unfiltered story, for the story's sake. As you listen to the piece, I know you'll hear that, and I hope you'll spread the gospel of the Pale so that many more may hear the scalpel's conforming touch and all the rest for years to come.
Yours,
Paul Solet
Writer-Director
THE CONFORMATION"
| | | | |
| --- | --- | --- | --- |
| | | | |
images from Paul Solet's look book; art by Samantha Humphreys